"Imagine a beautiful garden. A garden, in order to be attractive, needs different flowers of different sizes. If the whole garden is just one species of flower or plant, it may not be so attractive. So similarly, I think the human garden of different cultures and different ways of life is the more attractive. And in order to achieve that beauty we have to take care of each individual plant."
—His Holiness the Dalai Lama.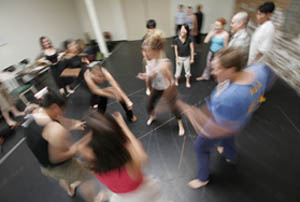 The message of the Dalai Lama is universal. Since the first production of The Buddha Prince, there has been a commitment to the diversity of culture and spirituality in our creative process. The play itself was inspired by the Dalai Lama's image of the 'human garden', as quoted above, and we have worked hard to practice and support this vision of beauty in diversity. With each new incarnation of the play, our intension is to continue to broaden the diversity of our creators, performers, administrators and audience.
If you are interested in collaborating on this production please contact us at artists@buddhaprince.org.
Collaborators
Markell Kiefer, Executive Producer/Creator/Director/Writer/Designer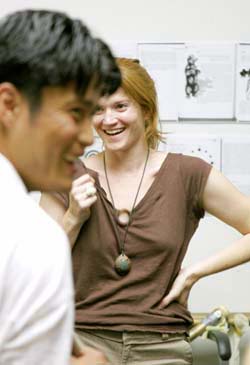 Markell, Executive Artistic Director, TigerLion Arts, has an extensive record of producing and directing 'walking plays' in the outdoors. She has a BA in Religion and Environmental Ethics from Middlebury College and a MFA in Lecoq-based physical theatre from Naropa University. Markell trained for two years at Circle in the Square Theatre School in New York City, has apprenticed European Clown master Giovanni Fusetti since 2003, and toured, performed, and directed nationally. She was raised a Tibetan Buddhist and her first outdoor productions were developed on the magical lands of Shambhala Mountain Center in Colorado. There she created and produced Thunderstorm, a play about the life of Chogyam Trungpa Rinpoche, for the consecration of The Great Stupa of Dharmakaya in 2001. Markell went on to create The Buddha Prince, a play celebrating the life of the 14th Dalai Lama. The Buddha Prince has been produced in Minneapolis, Los Angeles, and New York City, where it performed again in Central Park. Other directorial credits include: KIPO!, a circus of spirit, song and dance from Tibet; The Brush Master, a play honoring Kobun Chino Otogawa Roshi; The Rabbit in the Moon, a play on a previous life of the Buddha; The Life of Milarepa; and The Giving Tree, by Shel Silverstein. More about Markell.
Michael French, Writer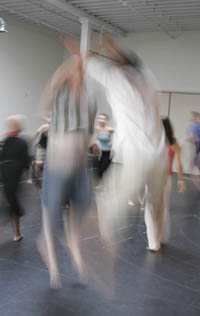 Born in London, England, Mr. French has spent most of his life writing and directing his own plays, including Bellyache, HER, and the award winning The Rainy Season. After five years as the Artistic Director for the infamous Glasshouse Theatre Company in England, he moved† to New York City to study the Meisner technique at the Acting Studio. While in New York he directed several plays for the internationally acclaimed Eva Minemar of the Angry Jellow Bubbles Theatre Company. On moving to Boulder he co-founded Theatre13 and directed Match by Stephen Belber (Ovation Award finalist) and My Name is Rachel Corrie. Mr. French is currently writing his first†screenplay for producer Elizabeth Khan.
Carlyle Coash, Writer
Mr. Coash has been steeped in the world of theatre for much of his life. After receiving his Bachelor of Arts in Theatre from Northwestern University in 1990, he remained in Chicago acting, directing, producing, selling real-estate, delivering packages and street performing until 1997. Highlights of that period included performances with Chongo Bongo's Village Carnival of Catastrophe, an improvisational musical theatre group, which he founded with long time collaborator Chris Metzger, as well as an adaptation of Jean Cocteau's Les Enfants Terrible. He was also in numerous children's theatre productions for Chicago-based Kidz Writes as well as a touring production of African Tales, which involved clowning and acrobatics. In 1995, he was one of the founders of The Actor's Gymnasium, an alternative theatre arts school dedicated to the teaching of circus arts, mime, clowning and all around buffoonery. The school holds close ties to Chicago's Lookingglass Theatre Company. In 1999, he graduated with an MA in Socially Engaged Buddhism from Naropa University. He worked as a chaplain for Hospice of Boulder County and is a Board Certified Chaplain through the Association of Professional Chaplains. He is the first Tibetan Buddhist practitoner to receive such an honor. Despite this work, Mr. Coash has been eager to bring into fruition the premise of his Masters thesis, which focused on manifesting social change through the medium of theatre. The recent collaboration with The Buddha Prince has been a highlight.
Waylon H. Lewis, Writer
Waylon, a so-called 'Dharma Brat,' was born and raised in Boulder, Colorado's Shambhala Buddhist community and is a student of Buddhist leader Sakyong Mipham Rinpoche. After majoring in magazine journalism from Boston University, Waylon worked at Shambhala Publications. Returning to Colorado, Waylon spearheaded the expansion of a small rural Buddhist retreat into a major, international, year-round public center now known as Shambhala Mountain Center, where he also helped to guide the completion of The Great Stupa—a 108-foot traditional Tibetan memorial to peace, tolerance and compassion. During that time, with Markell Kiefer, he co-authored The Buddha Prince and Thunderstorm, subsequently performing in their premieres. Waylon now serves as editor-in-chief of elephant, a magazine devoted to yoga, organics, sustainability, independent business and the arts.
Nina Rolle, Composer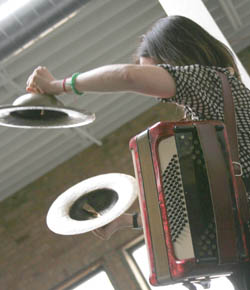 Nina Rolle is a hybrid artist (singer, composer, storyteller, voiceover artist, actor and clown) with a keen interest in Sonic Theater and a deep love of collaboration. She has a Bachelor of Arts from Naropa University, where she worked with Meredith Monk, Barbara Dilley, Lee Worley, and Allen Ginsberg. She has also studied Butoh in Japan with its originator, Kazuo Ohno, and trained intensively in physical theater forms with Ruth Zaporah and Anne Bogart. From 1995-2000 Nina performed nationally as singer and accordionist with the acclaimed Bay Area band Charming Hostess. Recordings include: eat (1998); Trilectic (2001); punch (2002). Voiceover accounts include Nicoderm, Nintendo, Fetzer Wine, Honda, Jenny Craig, PacMan, and Broderbund Education Group. Recent theater credits include the role of Kublai Khan in UMO Ensemble's Invisible Cities (Seattle); Music Director/Sound Designer for imprints and Stardust and Stripes with Zoo District theater company (Los Angeles); Music Director/Composer for Suzan-Lori Parks' Venus at the Boulder Museum of Contemporary Art (Colorado); and Music Director/Composer for The Buddha Prince (Los Angeles/Minneapolis/New York City). Nina's newest creation, Zen Cabaret, is a traveling medicine show, a "contemplative burlesque" that weaves together her various artistic disciplines, her 15-year involvement with Shambhala Buddhism and an ever-changing roster of collaborators from both coasts. This is Ms. Rolle's second collaboration with Ms. Kiefer, having directed the music for Thunderstorm in 2001.
Tenzin Ngawang, Tibetan Music Composer/Dance Choreographer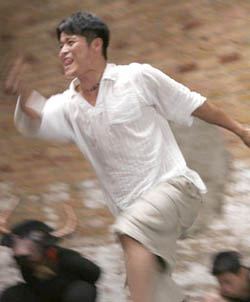 Tenzin is a native Tibetan and has been a member of the Tibetan Institute of Performing Arts (TIPA) in Dharamsala, India, since 1993. TIPA is the first institute of its kind, founded by His Holiness the Dalai Lama, with the objective of preserving and promoting the traditional performing arts of Tibet. After undergoing two years of vigorous training and practice at TIPA, Tenzin was promoted to the level of a Junior Artiste, and then after five more years of extensive performing throughout the world, he became a Senior Artiste at the institute. While at TIPA, Tenzin was the head of the Aa Ka Ma Band group, which produced many modern Tibetan songs and many of the their albums have become major hits. In 2000 Tenzin was elected as the cultural Secretary of the Regional Tibetan Youth Congress. During his eleven years at TIPA, Tenzin performed all around the globe, earning the respect and praise of all Tibetan communities. Being well versed in all forms of traditional Tibetan music, instruments, and dance, Tenzin now teaches for the Tibetan American Foundation of Minnesota, which represents the second largest Tibetan community in the United States. Tenzin is now happy to bring an authentic Tibetan voice to the final musical score of The Buddha Prince.
Ngawang Choephel, Tibetan Music Composer
Ngawang was born in 1966 in Tibet. He had fled the Chinese occupation of Tibet in 1968, when his mother Sonam Dekyi had carried him as a two-year-old boy on her back through the Himalayas to India. Growing up in the Tibetan refugee settlement of Mundgod in southern India, Ngawang Choephel was enthralled by the music of the land he had left behind, and he found that traditional music was just about the only link he had to home. As a teen, he taught himself to play the dramnyen; a six-stringed lute. In 1992, after graduating from the Tibetan Institute for Performing Arts in Dharamsala, India, Choephel earned a Fulbright scholarship and spent a year studying ethnomusicology and filmmaking at Middlebury College in Vermont. Ngawang taught music at a variety of schools in India and has produced an album of Tibetan Folk Music. He currently lives in New York City where he is pursuing his filmmaking career and his passion for music. Ngawang most recently helped composed the final musical score of The Buddha Prince.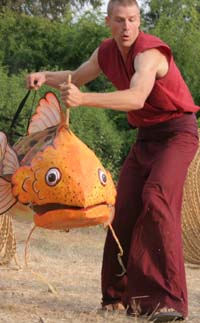 Tyson Forbes, Co-Producer/Technical Director/Set Designer/Composer
Tyson, Producing Artistic Director, TigerLion Arts, is a theatre creator, performer, and producer. Tyson has a B.A. in Theatre from Middlebury College. He has performed in regional theaters throughout the United States including the Guthrie, 5th Avenue, and the Ordway. Tyson is currently a company member of the Guthrie and lives in Minneapolis. He has co-created numerous new works including Supermonkey, We are Ugly but We Have the Music, and TigerLion Arts' latest creation, Nature, based on his great, great, great ancestor Ralph Waldo Emerson. Tyson has studied under Del Close of Chicago's Improv Olympic and with Clown Master Giovanni Fusetti. Acting credits include: Macbeth, Peer Gynt, Cabaret, 1776, Fully Committed, A Streetcar Named Desire, Equus, Don Juan in Hell, Terra Nova, and Arcadia. For more information please visit http://www.mnartists.org/Tyson_Forbes
Katie Haggerty, Mask and Puppet Artist
Katie has been a Buddhist practitioner for 23 years. She studied Buddhist sculpture at Naropa University and worked for eight years on the great Stupa of Dharmakaya at Shambhala Mountain Center in Red Feather Lakes, Colorado. The Great Stupa is the largest and most elaborate stupa in the West, reaching 108 feet in height. It is a memorial structure that acknowledges Chogyam Trungpa Rinpoche's teachings and role in bringing Buddhism to the West. Katie studied Bhutanese sculpture techniques and was chief mold maker and technical problem solver at the Stupa.
Sky Brooks, Mask and Scenic Artist
Sky has been a Buddhist practitioner for 23 years. She paints, makes masks, mosaics, and papers and paints innumerable objects. She has studied painting with Cynthia Moku, Joan Anderson and Bernie Marek and has shown her work in several venues in the Boulder area, including the Boulder Museum of Contemporary Art. Her mask making began while working on Markell Kiefer's Thunderstorm in 2001, and continued for the 2004 production of The Buddha Prince in Pasadena, and the 2005 production in Central Park. Presently, Sky manages the two galleries at Naropa University - the Lincoln Gallery and the Nalanda Gallery - works in her studio, teaches process painting workshops, and lives with her son in Lyons, Colorado.
Alan Fessenden, Lead Performer

A founding father of the Jobsite Theater Company in Tampa, FL, Alan currently lives in NYC. You can see him perform regularly in the Sketch show Saturday Night Rewritten, Sunday nights at Juvie Hall (juviehall.com), or with his improv group Stomping Ground (stomping-ground.net). You can also look for Alan in the Indy movies,
Slow Jam King
and
Dead Meat
, as well as in his upcoming One-man Show I think I'm Dumb. Other Favorite roles include The Soldier in The Tinderbox, Bottom in A Midsummer Nights Dream, Clown in The Winters Tale, Jesus Christ and Dante in Clive Barker's History of the Devil, and Austin in True West. Directing credits include Roddy Doyle's Brownbread, Frank Wedekind's Spring Awakening, 2 by Lanford Wilson: Home Free and Ikke Ikke Nye Nye Nye, The Ruins, or Meditations on the Revolutions of Empires, The Law of Nature, a musical comedy which he also helped write, and Something, Something Hope with Becky Yamamoto.
Alice Larsson, Publicist
Alice is an artist, graphic designer/illustrator, writer, filmmaker, educator and global networker. She holds a Bachelor of Fine Arts degree in Graphic Design from the University of Illinois; is a graduate of the Leadership in Public Policy Seminar graduate studies program Reflective Leadership Center, Hubert H. Humphrey Institute of Public Affairs, University of Minnesota; and has completed coursework in screenwriting and entertainment law from the American Film Institute, Los Angeles and Financing Tactics for Filmed Entertainment from Arthur Young Film Symposiums in New York and Los Angeles. She has over 35 years of experience in the areas of marketing, advertising, public relations, special event planning, fund-raising for profit and non-profit organizations and film, video and television production. Clients have included MGM, Warner Communications, Sheraton World Corporation, The White House, USA for the Homeless, Gateway Pacific Foundation, Star Alliance Foundation, Minneapolis Institute of Arts, Control Data, New Orleans Symphony, Hubert Humphrey Institute of Public Affairs, Kettering Foundation, Institute of Noetic Sciences, Earth Day International, and Earth Day USA. As a consultant to actor/environmentalist Dennis Weaver, she distributed Dennis Weaver's Earthship, a half-hour television special that aired nationally on PBS. She was a member of the producing team of the Earth Day 1990 hour-long television special that aired in 124 cities throughout the U.S. Alice served as Associate Producer of Gardens of the World, a 1993 Emmy award-winning six part series hosted by Audrey Hepburn, narrated by Michael York. As Director of Corporate Development for Earth Train, a project of the Gateway Pacific Foundation, San Francisco, she created the organizational structure, development package and coordinated corporate sponsorship from Fortune 500 companies. During this process, she worked closely with Jim Henson Productions, Lawrence Rockefeller III, Ruder-Finn Public Relations (New York), and the Hyatt Corporation. As a marketing consultant to Power Places Tours (PPT), St. Croix, Virgin Islands, she secured media coverage in Time magazine, New Age Journal, Associated Press affiliates throughout the country, CBS and CNN. She secured notable keynote speakers for three consecutive international conferences of INTA (International New Thought Alliance) and UCRS (United Church of Religious Science) sponsored by PPT in Egypt (Mrs. Jehan Sedat), Peru (Dr. Robert Mueller, former Under Secretary General of the United Nations and Chancellor Emeritus of the University for Peace in Costa Rica), and India (His Holiness, the 14th Dalai Lama). As a writer, her articles have appeared in Backstage, Art Business News, Graphis International, Film Journal International, American Cinematographer, and Create. Articles, interviews and photo spreads related to her clients have appeared in the Wall Street Journal, The London Times, Baltimore Sun, San Francisco Examiner, Los Angeles Times, USA Today, Denver Post, Town and Country, SAVVY, The Natural Way and Total Health, and on live media CBS, NBC, ABC, FOX, CNN, and radio stations throughout the U.S.
Brad Daniels, Photographer
Brad is a Professional Photographer, Designer, Fine Artist, Consultant, and Educator. His images have been published worldwide, with a broad range of assignments in the Advertising, Architectural, Editorial, Hospitality, Travel and other industries. In addition to his core Photography and Design business, Brad is an Adjunct Professor of Design at Concordia University. To download images of "The Buddha Prince" for publicity purposes, †visit his website: www.BradDaniels.com/buddhaprince
Kathy Crowe, Website Designer
Kathy is a web and graphic designer, and an illustrator. See more of her work at www.KathyCrowe.com.